Educator Resources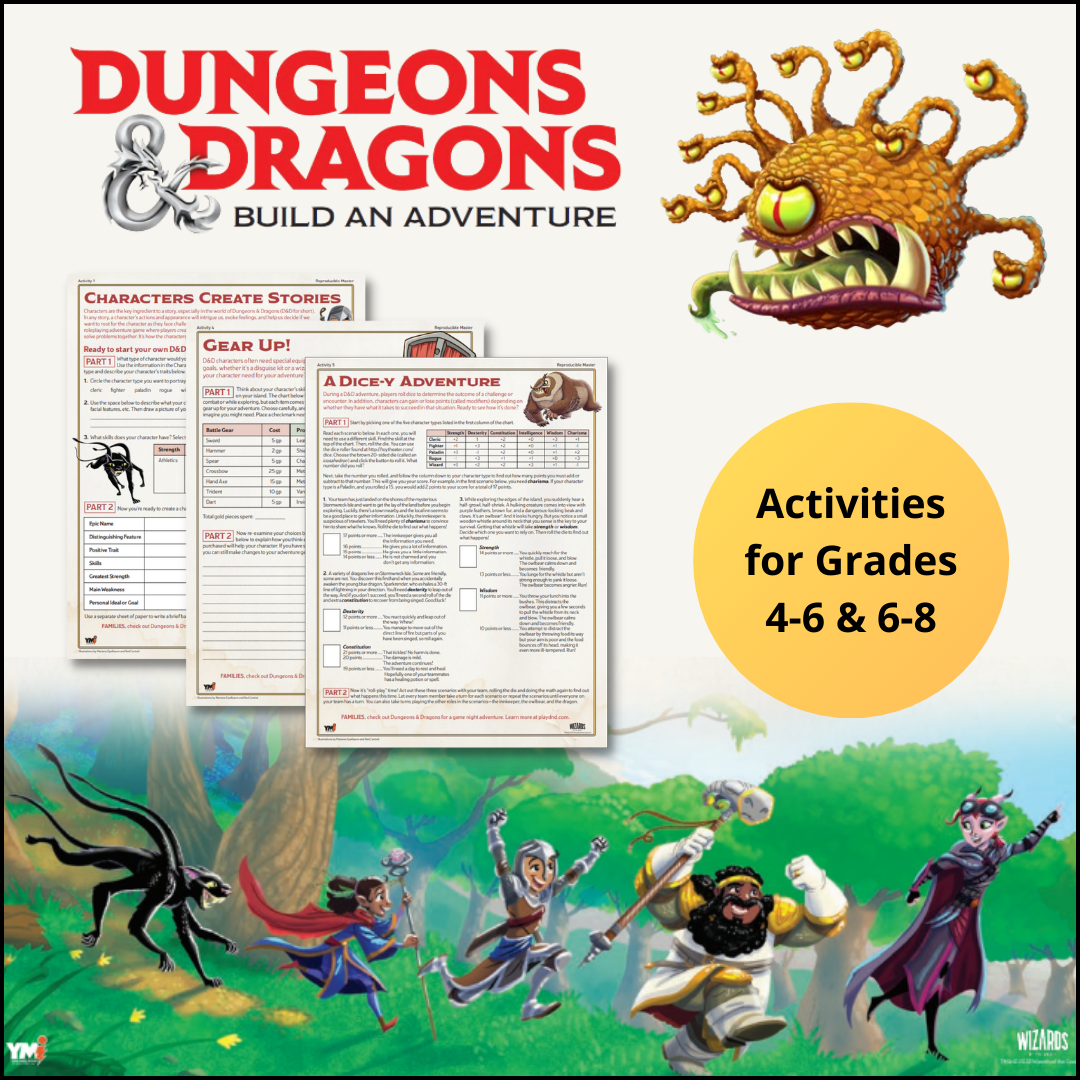 Dungeons & Dragons is a powerful learning tool that provides kids with numerous social, emotional, and creative benefits. We are thrilled to provide resources, news, and tips on how to engage and inspire students with Dungeons & Dragons!
---
D&D Classroom Curriculum
Take your students on a collaborative storytelling adventure that will reinforce language arts, problem-solving, and interpersonal skills with Dungeons & Dragons-inspired teaching kits for grades 4-8!
---
D&D Afterschool Kit
Afternoons of Adventure Await!
The D&D Afterschool Kit contains everything you need to start a D&D club at your school or library:
One (1) copy of the recently released D&D Starter Set: Dragons of Stormwreck Isle
Instructions and guidelines for club organizers
A quick demo and learn-to-play guide for Dungeon Masters
Easy-to-read character cards
A poster to help promote your club
There is no cost for qualifying organizations. If you are a representative of the following organizations, you may request a kit sent to your organization's address: libraries, schools, community centers, or other enrichment organizations (scouting, alternative learning centers, etc.).
Follow the instructions below to reserve a kit:
Submit a request for the kit at our customer service request portal, located here.
Click on "sign in" at the top navigation of the page. If you don't have a Wizards account, create one by clicking "register" on the Wizards account sign in page. (You will need a Wizards account to reserve a kit.)
On the customer service request portal, under "What would you like to contact us about?" select "Activity Kit" if it's not already populated.
Fill out the remainder of the form, including your organization's information. That's it!
Your kit will arrive within three to six weeks.
Kits available to organizations in the United States and Canada only.
---
Webinars
We are thrilled to partner with the International Literacy Association (ILA) on a series of webinars focusing on how to strengthen literacy skills with Dungeons & Dragons. Reserve your spot here.
You can watch the first of the webinars on demand now:
Plus, register now for the third webinar in the series, Using Dungeons & Dragons to Scaffold Writing Instruction, taking place October 11, 2022, 5:00-6:00 p.m. ET.