In the adventure Princes of the Apocalypse, the cosmic threat of Elemental Evil reaches the Forgotten Realms. This supplement provides new options for player characters in that epic campaign.
Chapter 1: Races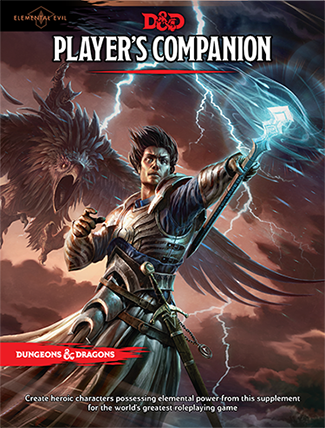 This chapter presents three new races to supplement those in the Player's Handbook: aarakocra, genasi, and goliaths. A gnome subrace—the deep gnome—is also included. These new options are available when you make a character, provided that your DM allows them in your campaign.
Aarakocra
Sequestered in high mountains atop tall trees, the aarakocra, sometimes called birdfolk, evoke fear and wonder. Many aarakocra aren't even native to the Material Plane. They hail from a world beyond—from the boundless vistas of the Elemental Plane of Air. They are immigrants, refugees, scouts, and explorers, their outposts functioning as footholds in a world both strange and alien.
Deep Gnome
Forest gnomes and rock gnomes are the gnomes most commonly encountered in the lands of the surface world. There is another subrace of gnomes rarely seen by any surface-dweller: deep gnomes, also known as svirfneblin. Guarded, and suspicious of outsiders, svirfneblin are cunning and taciturn, but can be just as kind-hearted, loyal, and compassionate as their surface cousins.
Genasi
Those who think of other planes at all consider them remote, distant realms, but planar influence can be felt throughout the world. It sometimes manifests in beings who, through an accident of birth, carry the power of the planes in their blood. The genasi are one such people, the offspring of genies and mortals.
Goliath
At the highest mountain peaks—far above the slopes where trees grow and where the air is thin and the frigid winds howl—dwell the reclusive goliaths. Few folk can claim to have seen a goliath, and fewer still can claim friendship with them. Goliaths wander a bleak realm of rock, wind, and cold. Their bodies look as if they are carved from mountain stone and give them great physical power. Their spirits take after the wandering wind, making them nomads who wander from peak to peak. Their hearts are infused with the cold regard of their frigid realm, leaving each goliath with the responsibility to earn a place in the tribe or die trying.
Chapter 2: Spells
This chapter offers new spells for many of the classes in the Player's Handbook. The spells provide various ways to harness the power of the four elements. Your DM determines whether these spells are available at character creation, whether they are discovered in a treasure trove, or whether you stumble upon them in an ancient library or other storehouse of magical knowledge.