What Is the D&D Adventurers League?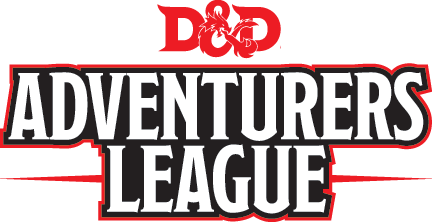 The D&D Adventurers League is an ongoing official campaign for Dungeons & Dragons. It uses the fifth edition Dungeons & Dragons rules, and features the Forgotten Realms setting. You can play D&D Adventurers League games literally anywhere. Players use the fifth edition rules to create a character and bring that character to games anywhere D&D Adventurers League play is happening.
Organizing an Event
Follow these simple steps to get started!
Find a place to play. Game stores are typically the best places to organize D&D Adventurers League games, but you can organize an event at other locations such as a school, library, or community center.

Find Dungeon Masters. Recruit from among your friends, interested players in your store, or use social media and other online community groups to get Dungeon Masters for your event.

Advertise your event. Post flyers in nearby stores, schools, and community centers. Create online events and allow players to register for games. Use social media to promote your event too!

Prepare event materials. You'll need things like blank character sheets, adventure logsheets, pre-generated characters, event registration lists, and copies of the adventures you're featuring at the event. Adventures meant for D&D Adventurers League play can be purchased online at the Dungeon Masters Guild.

Run your event and show your attendees a good time! Make sure to be responsive to feedback and address any issues that come up as soon as possible.
Where to Play Games
D&D Adventurers League play is focused flexibility of play and venue. It can be played in a variety of locations of the group's choice. Some examples include:
Private play including home play and online play. Published adventures themed around the current D&D storyline are considered official for D&D Adventurers League, so you can use those or adventures available through the Dungeon Masters Guild.

Game stores are supported through the Wizards Play Network.

Conventions describe in-person public play events. This can include actual gaming conventions, as well as a one-off public gatherings or game days.

Online includes play on various online platforms, such as Fantasy Grounds and Roll20.
Your Best Resource
We have a great team of campaign administrators available to help answer your questions and set you on the path to a successful event! You can find out more by heading to dndadventurersleague.org—our organizer support page!
Supporting Resources and Documents
Additional Links
Dungeons & Dragons Crystal Caverns
Slot Machine for real money
Dungeons & Dragons Cyrstal Caverns is an instant play slot game that can be played on both Windows and Mac operated computer systems. Based on the Popular Game As mentioned above, this IGT slot machine is based on the popular Dungeons and Dragon RPG. In this slot, you will be expected to lead your band of heroes into the mystical crystal caverns where treasure awaits! Legends have over the years described the treasures in Dungeons & Dragons and they say the caverns contain glittering jewels and gems beyond compare. You will however be required to defeat the skeletons, ogres, and trolls along the way so as to reach the treasure that lies at the far end of the crystal caverns. The game is set inside the dungeons and you will be able to see the skeletons lying along the walls as you pass through. The skeletons are a warning to you and they represent the demise that may befall you and your bankroll should you decide to enter the dungeons in search of treasures. Beyond the reels is deep darkness and you will definitely need to light torches so as to get around. On the reels you will encounter Ogres, Dragons, Skeletons, Trolls, the Bonus Symbols, and other regular symbols that include the Green Crystal, the Blue Crystal, the Purple Crystal, Dungeons & Dragons Logo, Bodock, Tordek, and the Elf Princess. The reels do not simply spin as you would expect. Instead, the symbols simply cascade into position. The music and sounds also beautifully go along with the theme. The Dragon is the wild symbol and substitutes all regular symbols on the reels. The Bonus symbol is your key to the free spins.