Back in June, we introduced the new D&D storyline at the Stream of Annihilation with a bunch of D&D adventuring groups known for streaming live play videos on Twitch. Not to be outdone, the community of podcast creators who play D&D in audio only without streaming came together to form Podcasts of Annihilation. Many of the most popular D&D live play podcasts out there are all playing through different parts of the Tomb of Annihilation adventure to celebrate the wide release. Each day during the week of September 18th, Dungeons & Dragons will release brand new episodes of these awesome podcasts on the Dungeon Delve RSS feed.
Each of the groups is busy recording these sessions now and getting them ready, as well as organizing crossover meetups with characters or DMs appearing in the other groups as guests. It's been an absolute blast witnessing the flurry of creativity that these amazing DMs and players have been bringing to the mic and we're psyched to be able to showcase their interpretations of the Tomb of Annihilation.
Mark your calendars – the Podcasts of Annihilation will be coming to Dungeon Delve starting with two episodes releasing on September 18th and following with two new episodes each day that week. Click here to subscribe to Dungeon Delve on iTunes or wherever you download podcasts. 
| | | |
| --- | --- | --- |
| Mon. | 9.18.17 | Nerd Poker, Taking Initiative |
| Tues. | 9.19.17 | Encounter Roleplay, Dungeon Rats |
| Wed. | 9.20.17 | Sneak Attack, Drunks & Dragons |
| Thurs. | 9.21.17 | Venture Maidens, Dungeon Drunks |
| Fri. | 9.22.17 | D&D is for Nerds, You Meet in a Tavern |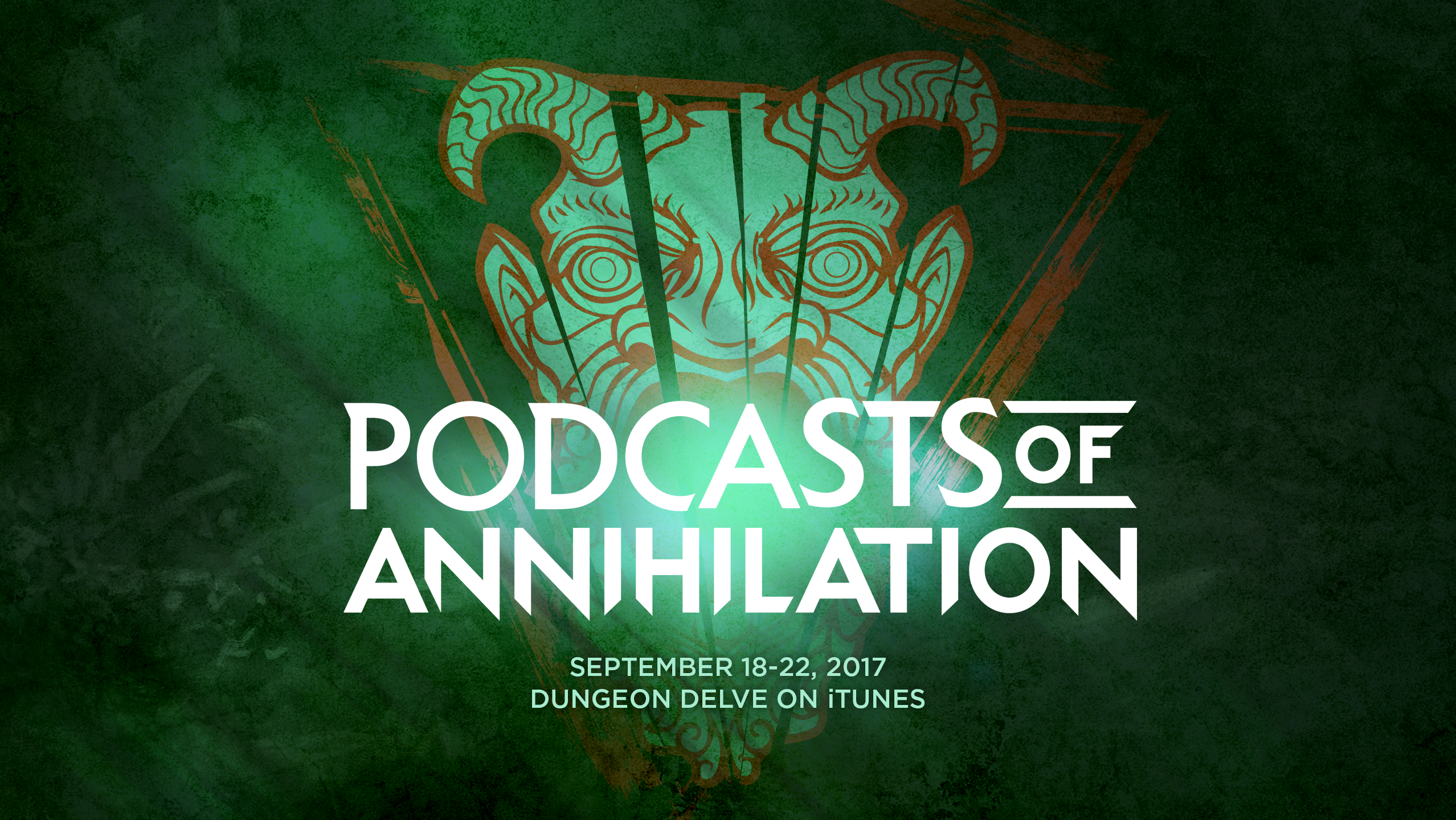 Below you'll find some quick information on the participating podcasts and how you can find out more about them. We'll be talking to a bunch of the DMs behind these podcasts in the coming months on Dragon Talk – watch those interviews live on Twitch.tv/dnd on Mondays at 2pm PT or download the podcasts wherever you grab them every Thursday.
Nerd Poker: Each week, under dark of night, in a dining room in Encino, a group of warriors led by Brian Posehn plays Dungeons & Dragons and you're invited to attend!

Website: patreon.com/nerdpoker

Twitter: @NerdPokerPod

"Taking Initiative" is a Dungeons & Dragons 5e actual-play podcast from The Spark Network.  Gameplay is primarily centered around the storytelling and role-playing, but it certainly doesn't shy away from the humor, both in and out of game.  The DM and players range from beginners to veterans, giving it a wide spectrum for both the group and its audience.  Come for the people, stay for the story.  The current campaign arc, "Barovian Rhapsody," takes place in the "Curse of Strahd" module, much to the surprise of the players.

Website: thespark.network/takinginitiative

iTunes: https://itunes.apple.com/us/podcast/taking-initiative/id1200286787

Turncloaks is a weekly D&D Podcast from EncounterRoleplay, set in a dark fantasy world. It's gritty, unforgiving, and at times, brutal. Turncloaks has just launched, so it's a fantastic time to jump aboard a brand new Podcasting crew!

Godsfall is an original fantasy story told through the lens of a 5th edition Dungeons and Dragons game in a world of lost magic and dead Gods known as Khalgun. One hundred years after the breaking of the world the divine powers of creation have once again found hosts, and the new gods of the Five Kingdoms have begun to rise.

Website: godsfall.com

Twitter: @GodsfallDC

The Sneak Attack! podcast is a homebrew D&D campaign set in the world of Brannis, and is populated by four heroes who are constantly challenging the mettle of their Dungeon Master. With episodes that release every Friday, this all-ages show will make you laugh, cry, and question how someone who claims to be a Dungeon Master can have such a loose grasp on the rules. Come for the adventure, stay for the Blazin' Hot Noodles.

Website: sneakpodcast.com

Twitter: @sneakpodcast

Drunks and Dragons is filled with unlikely but lovable heroes, bizarre locations, and eccentric NPCs. With an expansive back catalog, our podcast follows a group of friends as they try to save the world without destroying it in the process (again).

Website: geeklyinc.com/category/drunks-and-dragons/

Twitter: @DnDPodcast

Venture Maidens is a real play fifth edition Dungeons & Dragons podcast crafted by four life time gamers. Tune in as our bold heroes: Arrnodel, Kara, and Sawyeh, do battle with the forces of evil, financial destitution, and seek answers about a mysterious organization who seems to have taken a deadly interest in the Maidens.

Website: theventuremaidens.com

Twitter: @venturemaidens

D&D is for Nerds: In which we sit around a table, pretend to be different people and play some good old fashioned Dungeons & Dragons. Starring Jackson B. Baly as a kenku bard, Joel L. Zammit as a tabaxi ranger, Michael Shanks as a hobgoblin warlock and our favourite DM, Adam. It's a magical adventure where anything can happen, especially horses.

Website: sanspantsradio.com

Twitter: @sanspantsradio

Dungeon Drunks began as a live convention Dungeons & Dragons game to raise money for charity. Now five friends get together every week, talk about their drinks, and play D&D. Join Jack, Jonathan, John, and Julia as they dive into a 5th edition campaign filled with comedy, drama, laughter, adventure, and drinks created by DM Lauren.

Website: www.dungeondrunks.com

Twitter: @DungeonDrunks

You Meet in a Tavern is a 5th Edition D&D Comedy Podcast. Follow best buds Tug, Derf, and Karl as DM Joe leads them away from their safe town of Woodhaven on the adventure of a lifetime. We're four twenty-somethings with dull jobs by day, letting our inner-nerd-kid shine in our first ever D&D campaign together. Come join in the fun!

iTunes: https://itunes.apple.com/us/podcast/you-meet-in-a-tavern-a-5e-d-d-actual-play-podcast/id1206307740?mt=2

Facebook: http://facebook.com/YMIATavern

Twitter: @YMIATavern

Reddit: http://reddit.com/r/YMIATavern