Overview
The D&D Adventurers League is an ongoing official organized play campaign for Dungeons & Dragons. It uses the fifth edition of the Dungeons & Dragons rules, and features the Forgotten Realms setting. You can play D&D Adventurers League games at any place that features adventures bearing the D&D Adventurers League logo. You can create a character and bring that character to games anywhere D&D Adventurers League is supported.
Most D&D Adventurers League games are public, in-person play events. Typical venues for these events are game and hobby stores, conventions, and public-accessible game day events.
With the Elemental Evil storyline, you'll have three paths you can take to begin on the road to adventure with a new character.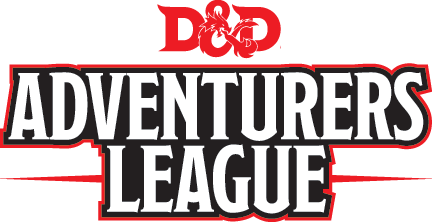 Play Princes of the Apocalyse
This is recommended for casual D&D players or those who want to experience the main storyline through game play. If you finish the whole adventure, surviving characters will be around 15th level! You can do this as a part of the D&D Encounters program in stores or play at home. Either way, as long as you track your play sessions on a D&D Adventurers League logsheet, it's all official. Note that if you play it as a part of the D&D Encounters program, your DM will get the a portion of the adventure complimentary as a part of the program, which will take characters through their first few levels, providing weekly play for a few months.
Play Lost Mine of Phandelver
The Lost Mine of Phandelver is recommended for new D&D players and DMs. It's a great way to introduce folks to D&D, and you can find it in the D&D Starter Set. Playing through the whole adventure will take surviving characters to 5th level. You can play this at home or as a part of an in-store play event if your store has one. It will take several play sessions to complete it. Once again, tracking this adventure on a D&D Adventurers League log sheet makes it official -- you get to keep all your rewards no matter where you go next!
Play City of Danger and other D&D Expeditions adventures
This is recommended for more experienced players who want to be immersed in a "living style" campaign. City of Danger is a very short introductory adventure (it takes less than two hours to play one of the five mini-adventures contained within it). It debuts at select conventions in March and is available widely in April. It's also part of the D&D Expeditions adventure suite, which contains many self-contained, one session adventures that showcase how the Elemental Evil storyline is affecting the Moonsea region of the Forgotten Realms.
How to Get a Game Going
To play in the D&D Adventurers League, all you need is access to a few things. Check the resources page to download materials.
The D&D Basic Rules, available now.

The D&D Adventurers League Player's Guide (or the Quickstart Guide), available now.

A D&D Adventurers League Log Sheet.

At least 3 players and one DM. (A legal D&D Adventurers League table consists of 3-7 players.)

A place to play. This can be your local store or a public event (like a convention or game day). Some D&D Adventurers League games can be played at home or online as well.
Where to Play
D&D Adventurers League play is focused on in-person public play. This means that in order to maximize the selection of adventures available to you,play in a space open to the public.
Game stores are supported through the Wizards Play Network and receive kits with great materials in them to enhance your game. D&D Encounters (our weekly Wednesday program) and D&D Expeditions adventures are both available for your local game store to run.
Conventions and public events describe any in-person public play that does not happen in a game store. This can include actual gaming conventions, as well as a one-off public gathering or game days. The public must be able to participate in an event for it to meet the standards of qualifying as convention play (it can't be a private or invite-only game). It's best for a convention to partner with a game store, since the store can sponsor the show and provide kit materials to enhance the experience. Conventions can contact Game Support to request access to D&D Expeditions adventures on their own.
Online streaming includes play on various online platforms that is accessible by the public for viewing. You and your D&D Adventurers League group can get access to adventures just like a public venue, as long as you're sharing your exploits with the world by letting others watch your play. Contact Game Support to request access to D&D Expeditions adventures for online streaming (you'll need to provide your channel's account name).
Private play includes home play and online play. Adventures themed around the current D&D storyline are considered official for D&D Adventurers League, so if you're playing at home, you can still participate by picking up these adventures (for this storyline, Priinces of the Apocalypse is available). You can bring their characters to a store or convention later on to participate in D&D Expeditions adventures.
Dungeon Mastering
If you're a DM, the D&D Adventurers League is a great way to run D&D games without having to spend time creating your own campaign world or adventures for it. As a DM, not only are you a guide to weaving a fantastic shared story, you also act as an official for the table you're running, providing your players with their characters' experience points and rewards at the end of each session. Our adventures provide guidance on how to DM for the D&D Adventurers League.
D&D Encounters sessions use our official published adventurers tied to the seasonal storyline as the play experience, and you can get a complimentary digital portion of that adventure right from your store. In addition, running games at the store gives you access to great materials for you and your players to enhance your game. This is a great way to break into Dungeon Mastering for the D&D Adventurers League.
D&D Expeditions sessions are typically the length of one of these adventures – usually two to four hours. They're a great way to get involved in a more "campaign style" game in an episodic manner. Each storyline, we'll release many adventures that are available to be run in public. If you're an experienced DM, running D&D Expeditions is probably a good fit for you.
D&D Epics sessions are one-off events at a major convention selected by Wizards of the Coast. They typically are run only for a short time, and represent important events during the annual storyline. Our organizers recruit the DMs for these events from some of the best out there.
Organizing
If you're looking to organize your own D&D Adventurers League events, there's a great resource available to you at dndadventurersleague.org. It's a hub for organizers to get information on what's going on with the D&D Adventurers League, and to ask questions from the administrators. To get the best selection of adventures for your players to choose from, you'll want to be partnered with a store. Alternatively, you can create your own public event to run adventures.
If you'd like to request support for your own public event, head to our Customer Service portal.
After you've contacted us and we've approved your request, you'll receive access to the adventures you've requested. These adventures are available digitally. For requests further in advance, you'll receive access to the adventures once they become available. If you have an upcoming event, you can find a schedule of what will be released on dndadventurersleague.org.
Links and Contact Information