Dungeons & Dragons loves the amazing video streams produced by our fans. This community-generated liveplay highlights what's fantastic about D&D—sitting down together with your friends to tell a grand story!
Schedule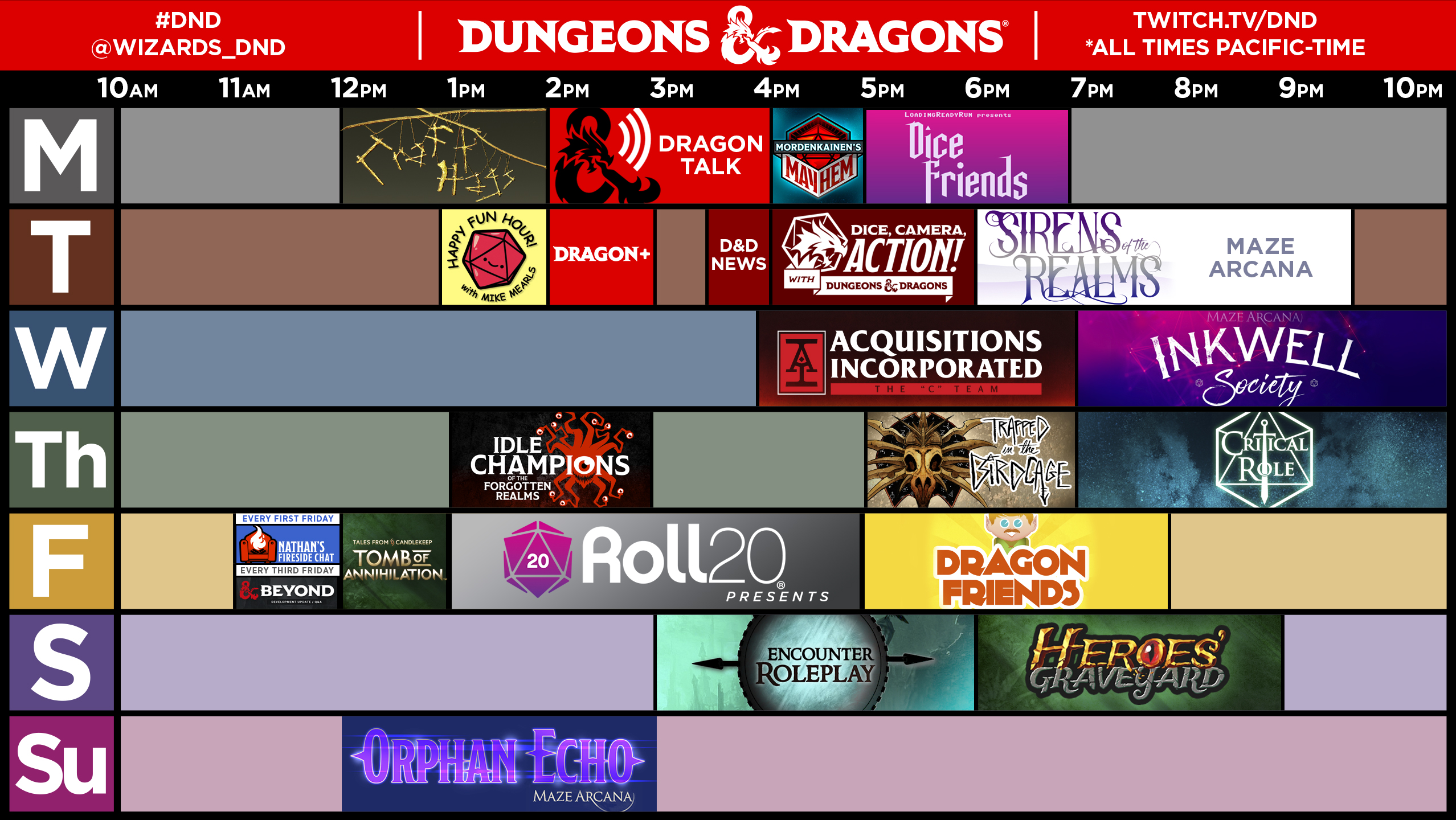 Monday
12-2 PM | Craft Hags: A show where Dani Hartel makes things from Dungeons & Dragons: costume pieces, game props, and decor for your gaming space!
2-4 PM | Dragon Talk: Go inside the walls of Dungeons & Dragons for exclusive interviews and previews! Your hosts sit down each week with celebrities and personalities from across gaming and pop culture to discuss one of the greatest fantasy brands of all time. We'll talk about the tabletop roleplaying game, as well as the latest in D&D video games, comics, novels, movies and television. Learn More.
---
Tuesday
1-2 PM | Happy Fun Hour: Even better than a medallaion of thoughts. Watch as Mike Mearls designs gameplay material directly across his shared computer screen! Learn More.
2-3 PM | Dragon+: It's our hour to discuss the content heading into each issue of Dragon+. We also take a more visual look at the design, development, and running of D&D gameplay material. Monthly, we also get artists and cartoonists together for our Dungeons & Doodles sketching hour!
3:30-4 PM | D&D News: Hear all the latest news and announcements concerning the Dungeons & Dragons brand.
4-6 PM | Dice, Camera, Action!: Along with friends from across the YouTube and Twitch communities, DCA is a live play-through of D&D's latest storylines run by Dungeon Master extraordinaire, Chris Perkins. Learn More.
6-9 PM | Maze Arcana: Sirens of the Realms: Join Dungeon Master Satine Phoenix as she takes an all-girl bard band on adventures through Faerun. This eclectic medley of heroes left the safety of their homes to follow their dreams. What could possibly go wrong? Learn More.
---
Thursday
1-3 PM | Idle Champions of the Forgotten Realms: Codename Entertainment demos and answers developer questions about their official free-to-play D&D-based idle clicker game. Learn More.
5-7 PM | Trapped in the Birdcage: When the Wereravens of Sigil need help, they look to outside sources. Very, very far outside. A party of four clueless berks are trapped in the Cage—can they survive or will they get put in the dead book?
---
Friday
11-12 PM | Fireside Chat: Join an in-depth conversation (not infrequently filled with spoilers and giveaways) with D&D's Senior Brand Director. Takes place monthly. Learn More.
1-5 PM | Roll20 Presents: Explore the jungles of Chult, as the group plays through Tomb of Annihilation; takes place using the Roll20 digital tools in action! Learn More.
5-7 PM | Dragon Friends: Where comedians muddle through their first Dungeons & Dragons adventure campaign. Come along and join the fun! No D&D experience necessary. Learn More.
---
Saturday
3-6 PM | Learn By Play: We walk through how best to tackle the latest D&D campaign. Each week taking on a different aspect of DMing and playing, the cast will pause gameplay to answer questions and to analyse what's happening in the session. Learn More.
6-9 PM | Heroes' Graveyard: Find out which characters manage to surive this supremely dangerous campaign, co-DMed by TrumpSC and Koibu!
---
Sunday
3-5:30 PM | Girls Guts Glory: When you dress up and play Dungeons & Dragons with your girlfriends... Oh ya, and film it. Learn More.
---
Watch on Twitch