Ranger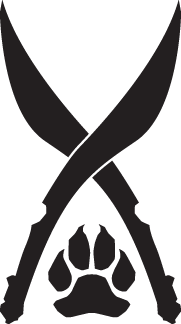 Though a ranger might make a living as a hunter, a guide, or a tracker, a ranger's true calling is to defend the outskirts of civilization from the ravages of monsters and humanoid hordes that press in from the wild.
This fierce independence makes them well suited to adventuring, since they are accustomed to life far from the comforts of a dry bed and warm water. Some rangers find the responsibility of protecting the rest of an adventuring party to be burdensome, but most quickly find that other adventurers who can carry their own weight in a fight against civilization's foes are worth any extra burden. City-bred adventurers might not know how to feed themselves or find fresh water in the wild, but they make up for it in other ways. A ranger's talents and abilities are honed with deadly focus on the grim task of protecting the borderlands.
Warriors of the wilderness, rangers specialize in hunting the monsters that threaten the edges of civilization—humanoid raiders, rampaging beasts and monstrosities, terrible giants, and even dragons. They learn to track their prey as a predator does, moving stealthily through the wilds and hiding themselves in brush and rubble. Rangers focus their combat training on techniques that are particularly useful against their specific favored foes. Thanks to their intimate familiarity with the wilds, rangers alsp acquire the ability to cast spells that harness nature's power, much as a druid does. Their spells, like their combat abilities, focus on speed, stealth, and the hunt.
---
A Brief Look Back
A description of the class concept from the 2nd Edition Player's Handbook:
The ranger is a hunter and woodsman who lives by not only the sword, but also his wits. Robin Hood, Orion, Jack the giant killer, and the huntresses of Diana are examples of rangers from history and legend. The abilities of the ranger make him particularly good at tracking, woodcraft, and spying.
Unearthed Arcana
Please Note: You can think of the material presented in this series as similar to the first wave of the fifth edition playtest. These game mechanics are in draft form, usable in your campaign but not fully tempered by playtests and design iterations. They are highly volatile and might be unstable; if you use them, be ready to rule on any issues that come up. They're written in pencil, not ink. For these reasons, material in this column is not legal in D&D Organized Play events.
The Ranger: This first installment of Unearthed Arcana presents a revised design of the ranger that builds on the class's unique traits, creating a new set of class features for 1st level to 5th level. Read more.
The Ranger, Revised: Though the revised ranger retains many of the elements of the existing class, a lot has changed, so it's best to simply dig into the new material to get a sense of how it feels. Read more.