Join us as we unleash the Rage of Demons on PAX Prime 2015
At this year's PAX Prime, adventure into the twisted fairy-tale land of the Underdark and experience the madness of the Demon Lords.  Below is a full listing of what you can expect on your journey.
Watch live video from wotc_DnD on www.twitch.tv
Darkmagic Vs. Do'Urden – Acquistions Inc. D&D Live
Friday 8:30 PM – Main Theater (Benaroya Hall)
Armed with the latest monster-slaying technology, the heroes of Acquisitions Incorporated undertake a perilous journey into a demon-infested Underdark. Dare to descend with Jim Darkmagic, Omin Dran, Binwin Bronzebottom, and Viari as they search for a legendary dark elf swordsman who, in his quest to put an end to the machinations of the demon lords, has lost his mind. Can the dual wands of Jim Darkmagic overcome the twin scimitars of Drizzt Do'Urden and rescue him from the brink of madness?
Last Time on Acquistions Incorporated…
Dungeons & Dragons Booth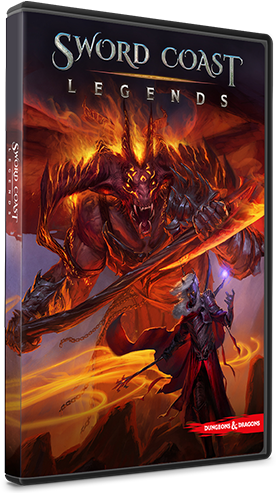 Friday-Monday, 10-6 – Exhibitors Hall, Booth 1642
Be a Hero!
The Demon Lords and their minions threaten to drown the world of Faerûn in madness, and we need your help to stop them. Gather your party and head into the Underdark for a preview of Sword Coast Legends – a new team-based Dungeons & Dragons game coming to PC, Mac and Linux in September and to the Xbox One and PS4 later this year.
Be the DM!
Each party will have a Dungeon Master who builds the dungeon, controls the monsters and guides the story. Challenge the heroes with traps, secret doors and custom-made bad guys you can drop in the dungeon on the fly. And it's not a real adventure without a little treasure. All heroes and DMs who play the demo will receive the limited edition PAX Prime Pinny Arcade Belaphoss pin.
Digital Dungeon Masters: Sword Coast Legends Brings Tabletop-style D&D to Video Games
Saturday 1:00 PM – Wyvern Theater
You've played the Sword Coast Legends demo but there's still more to see! The SCL team will show off the campaign building tools and share what they've got coming in the Rage of Demons DLC later this year.
Building the Best Worlds in Game
Sunday 11:30 AM – Seagate Theater
Between Magic: the Gathering and Dungeons and Dragons, Wizards of the Coast has built world after world, year after year.  What are the secrets to the process? How can you build your own worlds? Our panel of experts bridging the two games offer advice, and then answer your questions.
Ask a Dungeon Master
Sunday 6:30 PM – Sasquatch Theatre
Dungeon Mastering is an art and the skills and perspective are as unique as the story being told. Join Dungeon Master extraordinaire, Chris Perkins, to discuss tips, tricks, rules and whether it's kosher to kill a halfling in the first session. All levels of Dungeon Masters welcome from seasoned grognards to those interested in taking up the mantle.
Design-a-Dungeon
Monday 10:30 AM – Wyvern Theatre
There are a lot of elements that go into making a satisfying dungeon adventure. We're going to throw all that out the window and crowdsource the whole shebang. After an hour, we'll have created an outline for an awesome adventure - or a complete farce. It's up to you
Dice, Camera, Action: Streaming Tabletop D&D Games
Monday 3:00 PM – Hydra Theatre
You don't need to be in the Acquisitions Inc. live game at PAX to run a D&D game for thousands of people. Streamers have conquered tabletop gaming with new gadgets and a slew of shows. Join panelists in a discussion of how they started their tabletop D&D streams, what's gone horribly wrong, and how they keep viewers hungry as owlbears.
Tabletop Play – D&D Adventurers League
Friday-Sunday 10 AM-10 PM, Monday 10 AM-5 PM, Olive 8 Hotel – Rooms Steel A/B and Cyan A/B
Adventurers League organizers will be running two different D&D Tabletop adventures, introducing the new Rage of Demons story. Pregenerated characters are provided, or feel free to bring your own characters!
Harried in Hillsfar
Runs every hour
In the village of Elventree, near the oppressive city of Hillsfar, a recent string of strange occurrences has the locals on edge. The factions have gathered here on the borders of the forest of Cormanthor to determine what's happening. Is this the machinations of Hillsfar, or something more?
This is an introductory adventure given in 1 hour mini-missions. Perfect for playing your first game of D&D.
Shackles of Blood
Runs every 4 hours
The Red Plumes have increased patrols in the region surrounding Hillsfar, and a string of disappearances has followed in their wake. Naturally, this has roused the suspicion of the factions. Join your factions and find out the truth behind the missing farmers.
Be among the first to play this 4-hour adventure in its regional preview!