It's never too soon to roleplay!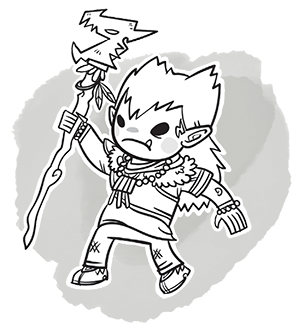 Everyone remembers the time they first discovered D&D. It probably made a lasting impression on you, right? I mean, you're here, reading this article. Wouldn't it be nice to share that experience with the young person in your life?
Maybe you're a parent who wants to share the fun of Dungeons & Dragons with your kids, but worried the rules are too complicated or their attention spans are too short. Are you a teacher or librarian who would like to introduce your students to the game, but you're reluctant to take on the regular time commitment of a full-blown campaign?
There are a great many reasons to share D&D with kids. Besides being just the kind of imaginative play that kids naturally engage in, Dungeons & Dragons develops an array of essential educational skills, including:
Math skills
Reading skills
Writing skills
Cooperation and leadership
Problem-solving
Creative thinking
Over the years, we've heard from many of you out there that you want to unlock these benefits for your kids, but you feel that they're not ready for the basic game or you just don't have the time to run your own campaign.
Following in the footsteps of the highly acclaimed Monster Slayers: The Heroes of Hesiod, by Susan J. Morris, Monster Slayers: The Champions of the Elements captures the flavor of the Dungeons & Dragons tabletop roleplaying game in one fast-paced, action-packed package for kids who want to learn the fundamentals of the game. It's also a fun diversion for experienced players who need their D&D fix, but don't have the time for a full-length game.
The Champions of the Elements requires no previous knowledge of Dungeons & Dragons, and all you need to play is included in this adventure, aside from a few dice, pencils, and some future roleplayers to play it with. Just think, three decades from now they could be reminiscing about their cool aunt, cousin, older brother, parent who introduced them to the hobby that has helped shape the person they have become. (No pressure.)
Note: You can also find the original Monster Slayers: Heroes of Hesiod adventure activity at DNDClassics.com!