Dylan Sprouse (@dylansprouse) has been playing D&D since he was on set as a child actor and he's jumped into it full force with his Pug Crawl streams on Twitch. Hosts Shelly Mazzanoble (@shellymoo) and Greg Tito (@gregtito) talk about snow again, before Greg gets the date of Meltdown Shopping Network debut on Mar 24 consistently wrong in this recording – sorry Gaston! Check it out on Twitch.tv/wotc_dnd Mar. 24 starting at 4pm PT! Lore You Should Know – Matt Sernett (@Sernett) talks about the multitude of entities in D&D lore from which a warlock can draw power. Thanks to @monkib0y for the topic suggestion!
Here's a guide to when each segment on the podcast begins:
00:00 – Intro with Greg Tito and Shelly Mazzanoble
04:49 – Lore You Should Know – Warlock pacts
26:04 – Interview with Dylan Sprouse
01:03:09 – Outro with Greg and Shelly
Subscribe to the Official D&D Podcast on iTunes, on Google Play, or wherever you get podcasts.
---
Dylan Sprouse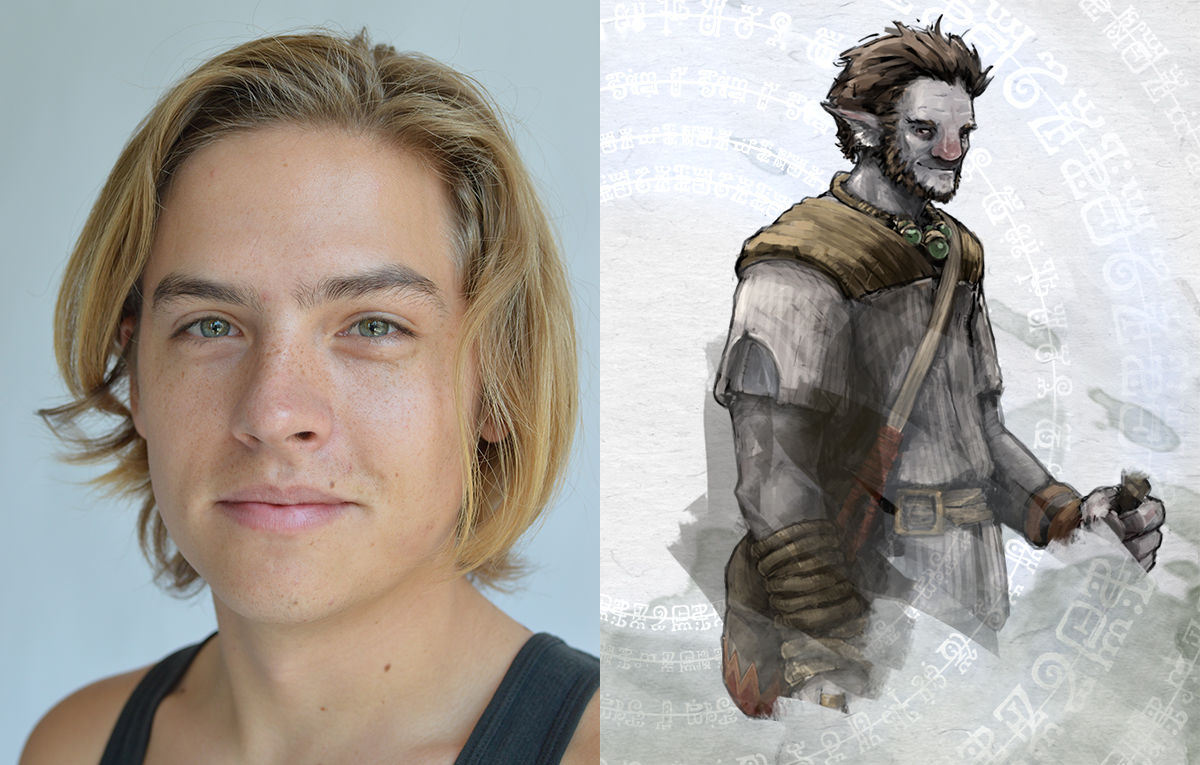 Pictured here alongside Tyril Tallguy, the firbolg druid he played in Force Grey: The Lost Episode in December 2016, Dylan is an actor and entrepreneur. He is currently playing D&D on the Pug Crawl Twitch channel and working on setting up a meadery in Brooklyn, New York.
---
And hey, if you enjoy Dragon Talk, leave us a review and rating. It helps more people discover the awesomeness of D&D and tabletop roleplaying in general. Even if you think we could improve or have ideas for guests, drop us a note on Twitter or in the reviews. Thanks!
About the Hosts
| | |
| --- | --- |
| | Greg Tito has had weird and long career as an Off Broadway stage manager, a playwright, a theater carpenter, a secretary, an RPG designer, a games journalist, and now a PR/Marketing person. He has loved Dungeons & Dragons ever since 1985 when he found an old copy of the AD&D Dungeon Master's Guide on his brother's bookshelf and he honed that love of fantasy storytelling in the dark streets of Sasserine by way of the Upper West Side gaming group he joined in 2004. He moved his family (wife + two young kids) to Seattle in 2015 to work on D&D and he's never looked back. You can find Greg on Twitter. |
| | Shelly Mazzanoble will always play a magic-user. There. She said it. Enough pretending to want to break out of her comfort zone. She's a magic-user. She's also the brand lead for Avalon Hill and loves talking about that one time she played Diplomacy and SOMEONE (okay, it was Ben Petrisor) stabbed her in the back and took over her beloved Russia. If you enjoy tales of sorcery, board game upheavals, and reasons her 3 year-old is crying (HINT: She tried to make him eat a Nutella crepe), find Shelly on Twitter and Facebook. |