Join us at the largest tabletop gaming convention in the upper Midwest!
Event Details:
Dates: Nov 8-11, 2018
Location:
Alliant Energy Center Exhibition Hall
1919 Alliant Energy Center Way
Madison WI 53713
Event Website
---
Livestream D&D Gaming:
Fri, Nov 9th: 8AM-12PM PDT
Dungeon of Doom with Stefan Pokorny
Enter the Dungeon of Doom! Stefan Pokorny (The Dwarvenaut) CEO of Dwarven Forge presents a miniature gauntlet of death to amuse and abuse your feeble 1st level AD&D characters... victims provided (or roll yer own). As characters get killed, waiting players can enter at various "rescue" points in the dungeon. If (more likely when) your character is killed, you can get back in line to re-enter the Gauntlet of Doom!
---
Fri, Nov 9th: 1-5PM PDT
Maze Arcana's Inkwell Live: Tip of the Quill
DM Ruty Rutenberg weaves a path of Sharn zeroes who'd kill for a little class, until their rise collides with Eberron's Dream Lily cartels, and the streets they roam become anything but home. Come and check out the fun as Maze Arcana broadcasts live in support of Extra Life. Players include Adam Bradford, Todd Kenreck, Eric Lang, Satine Phoenix, and Patrick Rothfuss.
---
Fri, Nov 9th: 6-10PM PDT
Mike Mearls' Livestream Game
Come and check out the fun as Mike Mearls runs a livestream D&D game in support of Extra Life. Players include Lysa Chen, Pat Kilbane, John Kovalic, Monica Valentinelli, and Rob Wieland.
---
Sat, Nov 10th: 8AM-12PM PDT
Saving Throw Show Livestream Game
Come and check out Saving Throw as they broadcast live in support of Extra Life. The Circle of the Sapphire Sword had it all—treasure, fame, and all the trappings of a successful adventurer's life. But eventually you tire of delving into greasy caverns and fighting infernal threats and so the Circle disbanded and its various members went their own ways. Now, decades later, they are old, out of shape, maybe even out of touch. But an old foe has risen from the grave to take his revenge. Will the devious lich Maugarr Bloodspeaker break the Circle once and for all, or can our heroes summon one last show of force to defeat him?
Join the always-entertaining cast of Saving Throw Show as Bill Cavalier the Dungeon Bastard takes the DM reins in this special live-streamed event raising funds for Extra Life. Your donations will help effect (maybe even determine!) the outcome. Players include Amy Vorpahl, Gaurav Gulati, and Dom Zook—along with very special surprise guests!
---
Sat, Nov 10th: 1-5PM PDT
Adventurers League Admins Livestream Game
Come and watch admin Alan Patrick run his fellow admins through Undermountain live in support of Extra Life. Players include Alan Patrick with William Benham, Lysa Chen, Claire Hoffman, Greg Marks, and Travis Woodall.
---
Sat, Nov 10th: 6-10PM PDT
Chris Perkins' Livestream Game
Come and check out the fun as Chris Perkins runs a livestream D&D game in support of Extra Life. Players include Peter Brett, Gaurav Gulati, Patrick Rothfuss, Elisa Teague, and Amy Vorpahl.
---
Watch on Twitch:
---
D&D Participants Include: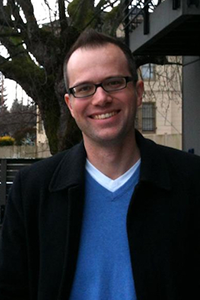 Jeremy Crawford
Jeremy Crawford is the lead rules designer of Dungeons & Dragons, in addition to being the game's managing editor. He led design of the Player's Handbook and co-led design of a variety of other D&D books, including the Dungeon Master's Guide, Xanathar's Guide to Everything, and Mordenkainen's Tome of Foes. Before coming to Wizards of the Coast, he wrote for the games Blue Rose, Warhammer Fantasy Roleplay, and Mutants & Masterminds.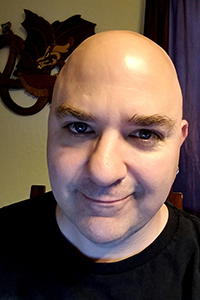 Chris Lindsay
Chris Lindsay began his love affair with Dungeons & Dragons as a wee lad in the early '80s. In 2010 Chris joined the D&D brand team and is currently the product manager for Dungeons & Dragons as well as the head of the D&D Adventurers League and the architect for the Dungeon Masters Guild, and Guild Adept program. Chris has been known to hop in front of a camera now and again, originally for ExtraLife charity events, and more currently on Maze Arcana's Peanut Gallery, and as a Dungeon Master during the Stream of Annihilation. Chris can also be seen handing out DM advice on Geek & Sundry's Epic Homebrews episode of GM Tips with Satine Phoenix.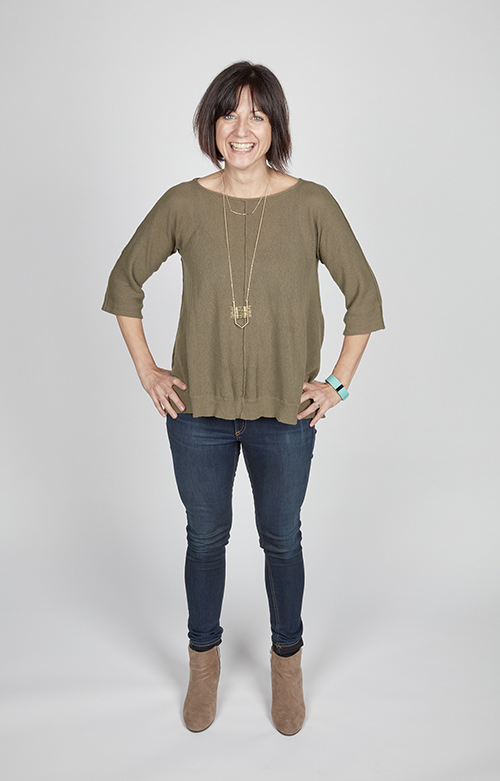 Shelly Mazzanoble
Shelly Mazzanoble will always play a magic-user. There. She said it. Enough pretending to want to break out of her comfort zone. She's a magic-user. She's also the brand lead for Avalon Hill and loves talking about that one time she played Diplomacy and SOMEONE (okay, it was Ben Petrisor) stabbed her in the back and took over her beloved Russia. If you enjoy tales of sorcery, board game upheavals, and reasons her 3 year-old is crying (HINT: She tried to make him eat a Nutella crepe), find Shelly on Twitter and Facebook.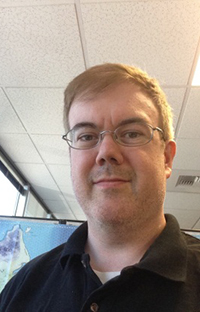 Dungeon Master: Mike Mearls
Mike Mearls works as the Creative Director on the D&D team. He led the development of the fifth edition rules and oversees the development of new campaigns, worlds, and rules for the game. Other RPGs he has worked on include Feng Shui, Unknown Armies, Vampire, and Warhammer FRP. He's been a D&D player since the early 1980s. His other interests include the fiction of Clark Ashton Smith and Fritz Leiber, the films of Quentin Tarantino, and video games such as Destiny and Halo.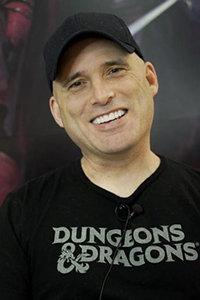 Chris Perkins
Chris Perkins is a 20-year veteran of Wizards of the Coast and principal story designer for Dungeons & Dragons. He has served as editor-in-chief for Dragon, Dungeon, and written numerous D&D articles and books, including most recently Curse of Strahd. He's probably best known as Dungeon Master to Acquisitions Incorporated.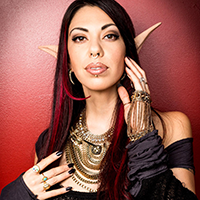 Satine Phoenix
Satine Phoenix is an illustrator, comic book creator and author who spent the last 8 years encouraging the Los Angeles Dungeons & Dragons Community. She began by coordinating weekly D&D games at Meltdown Comics and building meetup.com/LATabletopGamers. She founded CelebrityChariD20.com with Keith Baker for Reach out and Read in 2010. Satine co-created Maze Arcana in 2016 with Ruty Rutenberg as a way to connect with fellow gamers across the world. As Guild Adepts, they create tabletop content & travel the world from game stores to conventions teaching others how to take their games to the next level. You can read about her Gaming Escapades over the years on io9.com, Wired magazine, Maxim and Time Magazine.
In 2017 Satine continued Geek & Sundry's GM Tips, previously hosted by Matthew Mercer. In her new format, she showed their audience the value of learning from one another's experiences by interviewing Game Masters from all walks of life. Other shows she's been on recently are Geek & Sundry's Table Top (hosted by Wil Wheaton) & Projectalpha.com's Sagas of Sundry: Dread (game mastered by Ivan Van Norman).
You can watch her Tuesday nights 6pm PST Dungeon Mastering Sirens of the Realms on twitch.tv/dnd. Sirens of the Realms is about an all-girl bard band on tour through Faerun with special guests. Wednesday nights 7pm PST she plays Rose, an Aundairian Elf lounge singer, in Maze Arcana's Inkwell Society: A Neon Noir Live Play D&D game set in Eberron. Dungeon Mastered by Ruty Rutenberg on twitch.tv/mazearcana.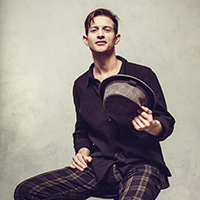 *Ruty*
*Ruty* is a US Army OIF/OEF Veteran, Actor, Writer, Voice Over, and Award Winning Dungeon Master & Creator. Ruty's expertise spans multiple platforms, with work alongside all the major studios on titles such as Argo, Fury, Finest Hours, Magnificent Seven, the recently released Growhouse by Snoop Dogg & DJ Pooh, and The Wall directed by Doug Liman. When not acting, voice acting, or writing for film & television, Ruty is writing content for Dungeons & Dragons, and a host of other RPG publishers and game designers. Somehow, he finds the time to stop for panels on the convention circuit—recently PAX, Gary Con, Emerald City & Los Angeles Comic Cons, Winter Fantasy; you can also catch him next at Gen Con, alongside his Maze Arcana co-creator Satine Phoenix. When he can, he loves gaming with attendees and is currently planning the future content as Dungeon Master of the amazing Maze Arcana titles, Orphan Echo and Peanut Gallery….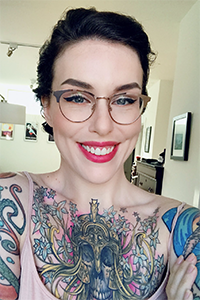 Kate Welch
Kate Welch is the newest game designer on Dungeons & Dragons, a baby wizard if ever there was one. Previously, she worked as a designer for ArenaNet, Double Fine, and Amazon Game Studios. As one of the core members of Acquisitions Inc: The "C" Team, Kate plays the fiery lightfoot halfling monk, Rosie Beestinger.