The veteran game designer from Cryptic Studios, Thomas Foss, rejoins the podcast to discuss the next module coming to Neverwinter based on four mages returning to the city. Lore You Should Know – Matt Sernett (@Sernett) and Chris Perkins (@ChrisPerkinsDND) go into the first series of adventure modules published by TSR, collectively called Against the Giants.
Here's a guide to when each segment on the podcast begins:
00:00 – Intro with Greg Tito and Trevor Kidd
03:08 – Lore You Should Know – Today's Topic: Against the Giants
15:14 – Interview with Thomas Foss
52:43 – Outro with Greg and Trevor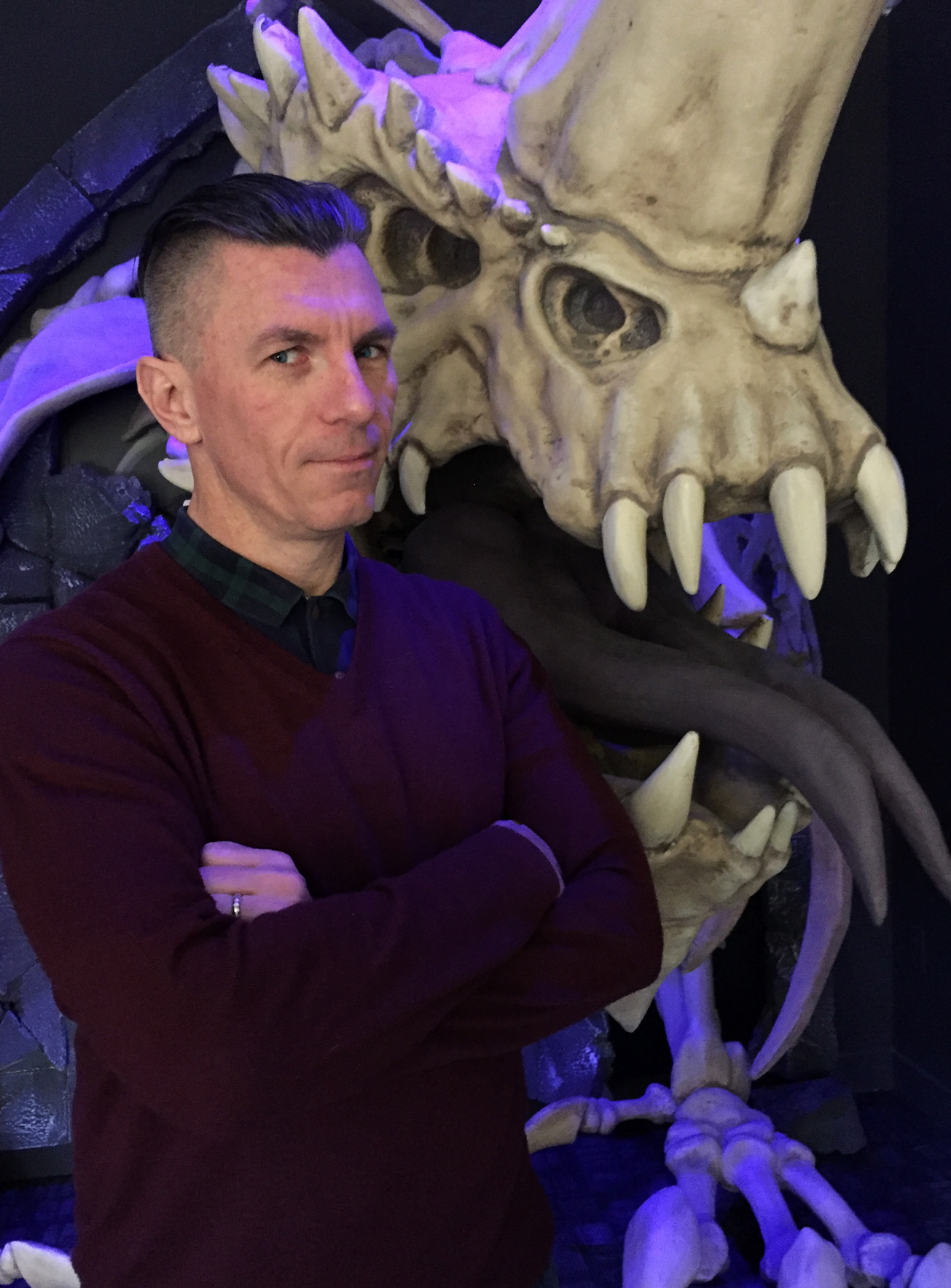 Thomas Foss, AKA the Mimic king, has been mapping out, looting and dying in dungeons since the old "Chainmail" rules and blue box edition.  He has been making both table top miniatures games and video games since 1995, starting with college friends and creating 7th street games where he helped design an anime' style Mecha game,  and then a Pirates game, which is the proper order to do things. His break into the video game industry came from Devs playing his table top games at conventions and the rest, as they say, is history. Thomas is currently the lead designer on Neverwinter Online at Cryptic studios, a game that he built and demoed the pitch for, over 8 years ago!  If you have ever encountered a mimic anywhere in Neverwinter, you can bet your astral diamonds that he put it there.  You can find Thomas on the Neverwinter Forums and at his Skull and Crown Facebook page: https://www.facebook.com/skullandcrown/.
Subscribe to the Official D&D Podcast on iTunes, on Google Play, or wherever you get podcasts.
And hey, if you enjoy Dragon Talk, leave us a review and rating. It helps more people discover the awesomeness of D&D and tabletop roleplaying in general. Even if you think we could improve or have ideas for guests, drop us a note on Twitter or in the reviews. Thanks!
About the Hosts
| | |
| --- | --- |
| | Greg Tito has had weird and long career as an Off Broadway stage manager, a playwright, a theater carpenter, a secretary, an RPG designer, a games journalist, and now a PR/Marketing person. He has loved Dungeons & Dragons ever since 1985 when he found an old copy of the AD&D Dungeon Master's Guide on his brother's bookshelf and he honed that love of fantasy storytelling in the dark streets of Sasserine by way of the Upper West Side gaming group he joined in 2004. He moved his family (wife + two young kids) to Seattle in 2015 to work on D&D and he's never looked back. You can find Greg on Twitter. |
| | Shelly Mazzanoble will always play a magic-user. There. She said it. Enough pretending to want to break out of her comfort zone. She's a magic-user. She's also the brand lead for Avalon Hill and loves talking about that one time she played Diplomacy and SOMEONE (okay, it was Ben Petrisor) stabbed her in the back and took over her beloved Russia. If you enjoy tales of sorcery, board game upheavals, and reasons her 3 year-old is crying (HINT: She tried to make him eat a Nutella crepe), find Shelly on Twitter and Facebook. |