The Dungeons & Dragons team is leading an effort to help children through the Extra Life event. Find out how to participate!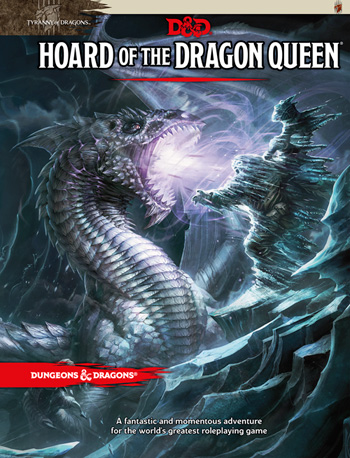 Last year, we set out to play 25 hours of D&D as part of the Extra Life charity gaming event, which raises funds for Children's Miracle Network hospitals. Joined by guests from beyond the Wizards D&D team, this adventuring party together raised over $21,000.
This year, we're inviting you to come along on the adventure.
The official Extra Life event takes place October 25–26, but you can participate anytime through the end of the year. Here's how to join or support the D&D team:
Watch
Starting early October, we'll announce participating members of the D&D team. You can donate to their pages—helping choose the character they're playing or donating magic items and potions of healing to help them survive! Then watch the D&D team play through Hoard of the Dragon Queen on the livestream on the D&D Twitch TV channel on October 25th.
Play
If you're looking to get involved, anyone can participate to the extent that they want and play whatever D&D games they choose. In addition to the TRPG, you might instead consider board games such as Dungeon!, Lords of Waterdeep, Castle Ravenloft, Wrath of Ashardalon, and Legend of Drizzt; D&D MMORPGs such as Neverwinter or D&D Online; or classic D&D video games like Baldur's Gate or Baldur's Gate II.
To participate, just follow these steps:
Join Extra Life and set a personal goal.
When creating your Extra Life account, choose "Join a Team" and select "Dungeons & Dragons."
Complete the remaining steps for creating an account.
Decide what you want to play and spread the word to potential donors.
Organize
As if playing games for 24 hours straight isn't ambitious enough, you can also organize an entire group to play! After you've joined the D&D team, take the following additional steps:
Reach out to other D&D players in your community. Walk them through the sign up steps, and encourage them to set donation milestones in addition to a personal goal. Last year, the D&D Extra Life players who had the most success allowed others to donate to choose the characters' races, class, name, roleplaying traits, and so forth. Other sample bonuses permitted by the DM included letting the character start at a higher level or gaining a wish spell or magic item, if the player reached certain donation thresholds.
Find a place to play—talk to your local game store, or find a space where no one's going to mind if you're gaming for 24 hours.
Create a schedule. Players don't need to play for the entire 24-hour period. Having a rotating cast of players keeps things exciting and energized.
Join the D&D Extra Life event on Facebook to promote your event to others and share your success.
Rewards
For those gamers who help on this quest, we have a special reward. Participating members of the D&D Extra Life team who raise $50 or more will receive some promotions to be used in the D&D Adventurers League and in the Neverwinter MMORPG. Like last year, we'll also be supporting our donors with periodic rewards during the livestream. More details will be available in October.
The Goal
Our goal this year is $25,000, and we're confident that with the help of the D&D community, we can make it. Join the D&D team and help support this great cause. If you want to help now, you can visit and donate now.